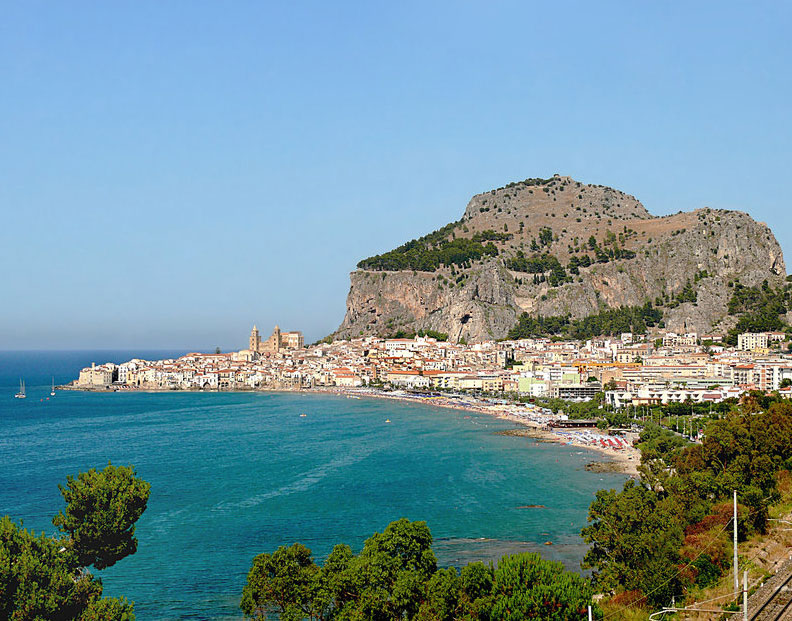 It is not known exactly where Cefalù takes its name, whether from the Punic Kefa, from the Greek chefaloidion or from the Latin caephaledium, but it is certain in the name the reference to the image of the head, the end, the pride per
haps of a leader. Starting from the first urban settlement, dating back to the fifth century B.C., the city has stretched out behind the fortress, constantly dialoquing with it and letting the urban movements decline between the city on the ground, the fortifications and the edi
fications on the mountain. Reaching Cefalù from Palermo means having access to an extraordinary spectacle, because from afar the city will greet you, unfolding its whole history: the attention converges first towards the Rocca, then to meet the elegance of the Duomo, architecture around which the entire urban fa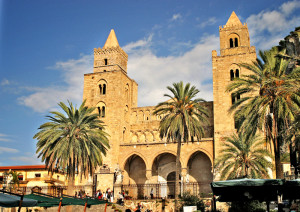 bric is tightening. Through the dominations of Greeks, Byzantines and Normans, despite the transformations of the walls and the gateways, the city has maintained its original plant almost intact. Yet, it is with Ruggero II who has seen in his heart an architecture of rare beauty: The Duomo, a solemn building that has given the city an even stronger political and artistic identity. Built in 1131 A.D. At the behest of the Norman King as Thanksgiving to the Lord for one
Narrowly escaped shipwreck, the Basilica-Cathedral is one of the most precious examples of medieval architecture in Sicily, a casket of works of art, such as Mosaic creations and works adorning the interior and contemporary stained glass windows that give it further Light. But i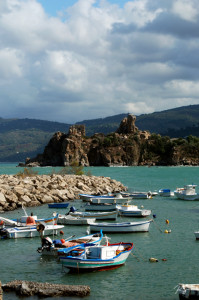 t is not only in the Duomo or the Rocca that Cefalù owes its elegant appearance, the lively atmosphere, the snarky allure that draws between streets and alleys, squares and small arches, in a landscape that offers a thousand different details. From the towering centre of the Duomo, you can discover other treasures, a medieval fabric in which there are ancient small churches and the collections of the Museo Mandralisca, the noble palaces and the Baroque
details. It is not only from the art that comes the narrative of stories and events and the evocation of beauties always alive, because from the sea come other stories, sea that resonates and Riluccica, embracing the town impregnating its scent. From the sea come the fishermen on the colored boats, from the sea come the nets with their catch. Exactly like Ruggero who came from the sea and who found the port in Cefalù.
Cefalù… The pearl of the Tyrrhenian. Magical place where heaven, earth and sea give life to an alchemy of unique nature. Where the present and the past are conjugate without interruption, creating polyhedral suggestions… Where culture and nature urge the traveler to push himself to the most secret gorges of his soul… The ret
urn home will be a test: it can only be changed, perhaps imperceptibly, but the echo of the historical vibrations, of the experiences that emanate from the alleys of the historical center of the town, from the images of the fortress, the Norman cathedral, the Sea, that you are impressed in the memory… They leave their mark.
This seems to us to be the deepest and perhaps least "touristic" meaning of a trip to Cefalù: As soon as you "arrive" you elect it to "dwell" and you will never be "foreigners in a foreign land".
Perhaps this prompted Roger II, the Norman, after having saved himself from the storm, to make it the place of his realization, the earth that would have made him immortal.
So what… Good discovery!