B&B "Villa Di Giorgi"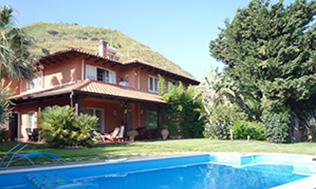 At the foot of the "Monte Sant'Elia", not far from the junction for the road leading to the Benedictine sanctuary of Gibilmanna, now a convent of the Capuchin Fathers, is located in the district of Cefalù called "Santa Barbara". The B&B "Villa di Giorgi" is located at 150 meters above sea and is 600 meters from the entrance of the old town of Cefalù. The villa is placed on two elevations and on the ground floor is the dwelling of the owners.
At the first elevation, with independent entrance, there are the 5 rooms used in B&B all elegantly furnished with bathroom in the room with shower or bathtub.
Breakfast is served in a small porch, on the lawn by the pool, to birdsong especially a colony of blackbirds. Breakfast can be served directly in the private terrace of your room without any extra charge, requesting it the night before; The property will also be very pleased to meet the food needs of its guests.
The B&B has an agreement with a lido equipped on the seafront of Cefalù and guests can take advantage of a shuttle in the morning and evening avoiding the annoying problem of the search for parking. Alternatively, for those who like to walk, you can reach the sea or the old town of Cefalù on foot in 5/6 minutes. During the summer season it is also possible to book excursions or boat trips, to rent dinghies, scooters, bicycles or cars.
The exteriors and common areas of the B&B "Villa Di Giorgi":
The rooms of the B&B "Villa Di Giorgi":
The lodges of the B&B "Villa Di Giorgi":